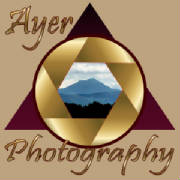 YOUR STORY IN YOUR STYLE
No matter what your style
Ayer Photography
will blend modern and traditional modes of expression in photographs to tell your story in a unique record that will be treasured for years to come.
Our most popular album design style is that in which every album page is a fully customized contemporary collage, usually printed full-bleed (all the way to the edge of the page). We offer this contemporary collage design style in our Premium Flush-Mount Albums. These albums have a key advantage of opening flat with an industry-leading 1 mm gutter, enableing us to design all our pages as true two-page panoramas spanning facing pages.
PREMIUM FLUSH-MOUNT ALBUMS WITH CONTEMPORARY COLLAGES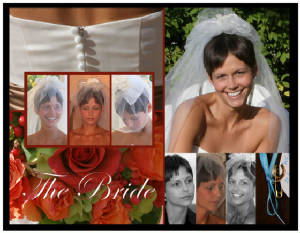 Our contemporary collage designs have long been our most popular album layout style with our wedding photography customers. This same contemporary design style is now available in all three of our Premium Flush-Mount Album lines and one Photobook line. The collage captures more than a single expression or moment. A 60-page album, for example, can incorporate up to 200 individual photographs combined in a way that every page becomes a work of art, bringing emotions and the people who participated in them alive in a way no single photograph can. If you have never seen an example of one of these albums, you owe it to yourself to give us a call and experience it for yourself. (In the meantime,
CLICK HERE
to review some of our prior contemporary collage page designs)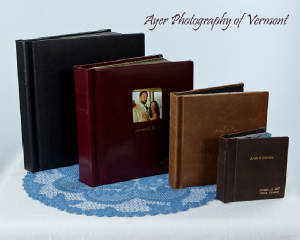 Bordeaux Flush-Mount Albums
Another key feature of all three of our Premium Flush-Mount Album Collections is the ability to produce same or smaller size duplicates of an album at a substantial savings from the original. Wedding customers, for example, often order complete sets: a 12-inch x 12-inch Premium Flush-Mount Album for the Bride and Groom, 10-inch x 10-inch albums for their parents, and 8-inch x 8-inch versions for the wedding party or grandparents.
BORDEAUX PREMIUM FLUSH-MOUNT ALBUM COLLECTION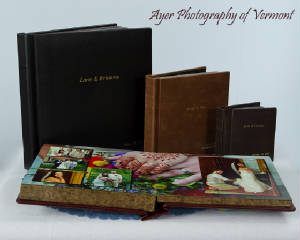 Bordeaux Flush-Mount Albums
Our Bordeaux Premium Flush-Mount Albums with contemporary collages are designed as two-page spreads on square pages and have a number of hard-cover options. The collage pages are printed as photographs that are then flush-mounted (without mattes) onto rigid archival pages. They are then bound in hard covers in such a way that each page set opens flat with an industry leading mere 1 mm gutter between facing pages. This feature enables true panoramic designs that span facing pages making for albums with remarkable elegance. Every set of facing pages is a professionally designed fully customized photographic collage using the photographs we took of you and your event. These collages are designed to fill the page and tell a story through the pictures.
There are four (4) possible sizes in this premium collection. The largest is 12" x 12", the second is 10" x 10", the third is 8" x 8", and the smallest size is 5" x 5." The designs for 12x12, 10x10, and 8x8 are interchangable; whereas the 5x5 are used exclusively for small "Brag Books." The design options and constraints are as follow:
BORDEAUX FLUSH-MOUNT ALBUM FEATURES
The key characteristics and options for Bordeaux Flush-Mount Albums are as follows:
For all but the 5" x 5" albums the number of pages (sides) = 40, 50 or a maximum = 60; The 5" x 5" albums may have 20 or 30 pages (sides)
Albums available as 12" x 12", 10" x 10", 8" x 8", or 5" x 5"
Each page is a professionally designed custom collage of your photographs. It will fill the entire page -- printed full-bleed (all the way to the edge)
The gutter between facing pages is an industry-leading mere 1 mm, enabling extraordinary panoramic designs that span facing pages
Facing pages open flat
Page corners are rounded for longer durability
Page edges are gilded marbled gold on larger albums
Album is delivered in a Boutique Book Bag or an optional leather covered premiere presentation box
The standard Bordeaux Boutique Bag is made of a deep red shantung fabric and raised black velvet floral design. It has with a black satin inside liner and a black knot closure
PREMIUM FLUSH-MOUNT ALBUM COVER OPTIONS
The hand-crafted covers for our Bordeaux Flush-Mount Albums are available in eight (8) colors of simulated leather (leatherette) and two (2) colors of genuine premium leather. For the larger sizes, a cameo is optional. There are also two additional cover styles - a custom wrap-around photo canvas, or the Glacier cover which features one photo on the front cover protected by an acryllic cover.
BORDEAUX PADDED COVER FEATURES & OPTIONS
Our most popular covers for our Bordeaux Flush-Mount Albums have the following key features:
Covers are padded leatherette or premium leather for a rich luxurious feel
For 12" x 12" and the 10" x 10" Flush-Mount Albums, you may select to have an optional cameo on the front cover. This is a square hole recessed into the upper center of the front cover in which we mount the image of your choice.
Choice of two (2) materials - synthetic leatherette, or premium padded genuine leather
For the synthetic leatherette there is a choice of eight (8) colors: Black, Brown, Burgundy, Blue, Pink, Red, Slate, or White
For the premium padded leather there is a choice of two (2) colors: Ebony Black or Antique Brown
All of these covers accept Gold or Silver embossing on the front cover
GLACIER ALBUM COVER
The increasingly popular GLACIER cover for our Bordeaux album collection features a clear acryllic window that displays your image on the full face of the front cover. Images are framed with a durable leather-like finish (Black only) that wraps around the spine and covers the plain back.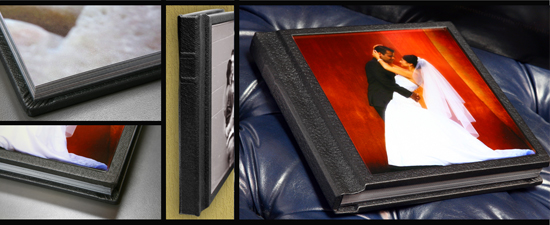 Glacier Album Cover Option
WRAP-AROUND PHOTO CANVAS COVER OPTION
This cover option for our Bordeaux Flush-Mount Albums is to use a wrap-around photo canvas as the cover material. For typical wedding albums the image(s) used on the canvas are a custom designed collage of wedding images, often incorporating some titling.