A wide variety of print sizes and types, as well as a wide range of photo merchandise may be ordered directly from within our online proof galleries. For most items the selected image may even be cropped directly by the customer to make sure the portions of the image of interest are captured in the chosen print product.
Description of all Services and Products from Ayer Photography
Two product types offered by Ayer Photography cannot be ordered from within the online gallery. They are our Gallery-Wrapped Canvas prints in Floating Frames and our fully custom Albums and PhotoBooks. Both items can only be obtained by submitting an Order Request Form below.
GALLERY-WRAPPED CANVAS IN FLOATING FRAMES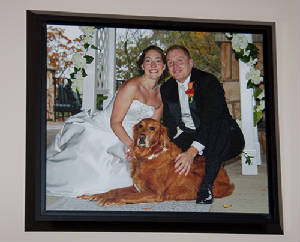 Gallery Wrapped Canvas in Floating Frame
Floating Frames are an exquisite framing option for customers who like the three dimensional look of a gallery-wrapped canvas, but want the added style of a custom, solid wood frame. Our unique solid wood frames go a step beyond the plain thin frame normally used for paintings and canvases by offering wider side panels that mimic traditional custom framing. With a half inch space between the canvas and the frame, the three dimensional look of the canvas is left intact with no need for matting or glass.

Floating Frames are offered in four different styles - Majestic, Prestige, Regal and Traditions. All of our custtom-made and handcrafted frame styles are offered in a variety of colors and are available for canvas prints size 8"x10" to an awe-inspiring 40"x60".
CUSTOM ALBUMS & PHOTOBOOKS
Premium Flush-Mount Albums
Most of our wedding customers include a custom-designed Album or PhotoBook in their wedding photo packages. Once designed and approved by the bride and groom, duplicate copies - the same size or smaller - may be purchased by friends, relatives and guests.

In some cases, where the bride and groom have ordered one of our Premium Flush-Mount Albums, duplicates of the same design may be available in a less expensive press-printed Brighton PhotoBook, for example. All such duplicates can only be obtained by first submitting a completed Order Request Form below.
AYER PHOTOGRAPHY NON-GALLERY ORDER REQUEST:
Once we have received your Order Request submission, we will contact you by email regarding image selection, product options, pricing, billing, and shipping options.
If you have any additional questions regarding our products or services, please send us an email at
Info@AyerPhoto.com